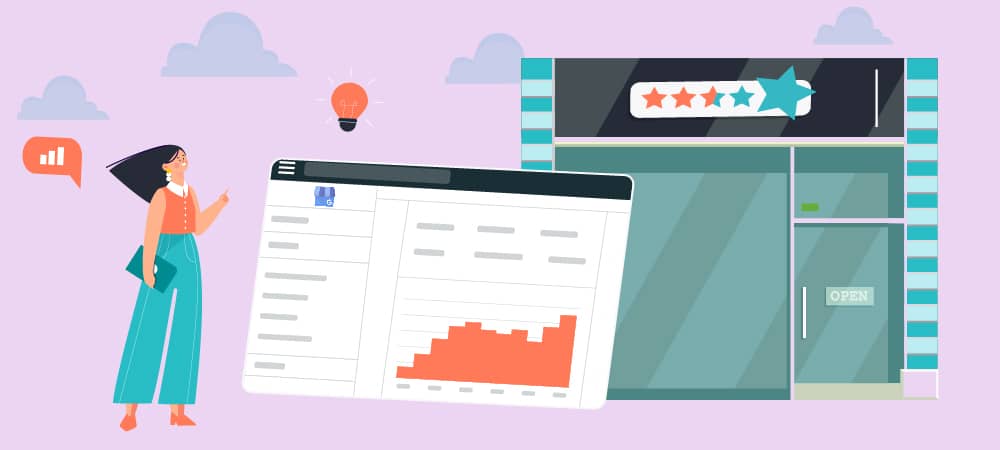 5 Google Business Profile Features for Restaurants and Diners that Drive More Sales
Google Business Profile is where you can control how your brand is found on Google Search and apps like Google Maps. It's free to use, and it can offer your marketing, operations and front line valuable insights on customer experience before and after they make a purchase.
Not all Google Business Profile features for restaurants are visible and accessible on the fly, a few are counter-intuitive, some have been added during the last year, so we decided to make a 2021 list that will save you valuable time along the way. 

During 2020, Google pushed forward important updates in the Google Business Profile. Offering new tools to independent small and medium businesses from the industries heavily affected by the Covid-19 pandemic.

Check out this round-up of Google Business Profile features for restaurants and see what makes sense for your brand.
Your branding, core values, marketing and communications mix are unique. Yet adapting to current affairs and market trends is universal.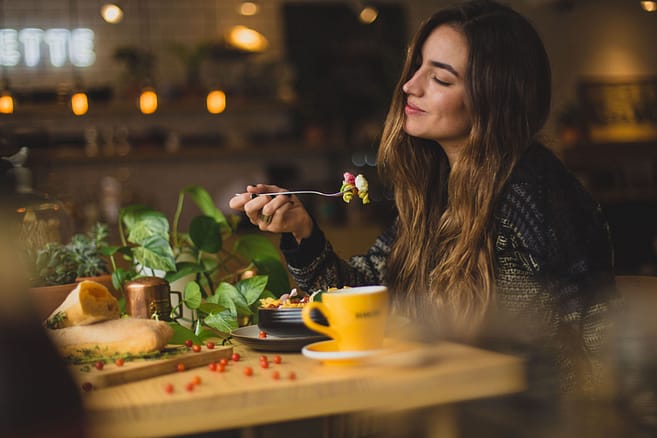 Why include Google Business Profile in your restaurant marketing strategy?
It's important to get your info and links right, so you don't leave money on the table. Online reputation management is often a numbers game, and there isn't a one-size-fits-all solution for all restaurants.
Think of Google Business Profile as your brand's digital business card as well as a free, versatile conversion channel. Cool, right? 
Oh, and one more thing, Google Business Profile can be intimidating when setting up a restaurant location! It has a lot of sections, and not all features are created equal. 
Here are
5 key Google Business Profile features for restaurants
that your team need to take advantage of right away. 
This round-up is just an introduction to Google Business Profile. If you want to have the full story, download The Ultimate Google Business Profile Restaurant Marketing Playbook to make sure your restaurant listings rank better in searches. 
1. Menu Cards 
Dishes can be added to your listing as slidable cards, alongside a description, ingredients and price.
Your cards are visible in a user-friendly carousel-like section, and the user can browse the whole menu without loading another webpage.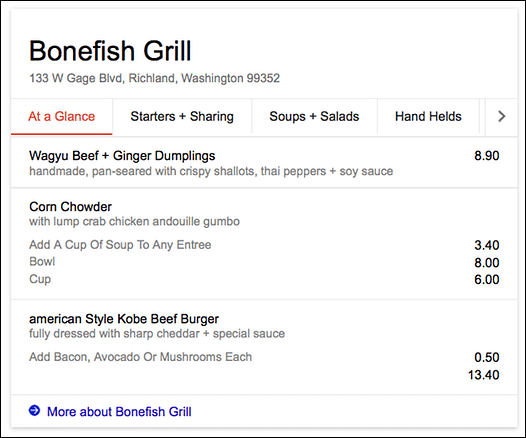 Menu cards are a great way to differentiate your restaurant from competitors and bring new customers up to speed with your brand's menu offering. 
It's advisable to go further and place categories for your dishes to be easier to discover by hungry digital foodies.
Depending on your restaurant's specific, listing managers can get super specific and mention extra toppings, plating options and side dish options. 
2. Direct link to food delivery services  
Here is where Google Business Profile becomes a sales conversion channel.
Restaurant listing managers can link their GMB page to food delivery apps like Uber Eats, Deliveroo, Takeaway.com where they are active, table reservations,
e-commerce shop and in-house takeaway and delivery services.
There is no particular limitation on the number of links from your restaurant listings. However, you should make sure your in-house landing pages, e-commerce and delivery services are tracking incoming traffic and conversions. This way, you know how many customers you've got from each channel.
Google's guidelines for restaurants recommend the following types of links:
Book an appointment
Make a reservation
Place a food order
Place a shopping order.
Pro tip here: check if your links are working from time to time  (not returning a 404 page, broken link) and that your landing pages are updated with the latest & greatest info & visuals. If consumers find different opening hours or even different prices, it is more likely they will bounce to your competition.   
3. Service highlights
Before we move away to more indirect factors that influence conversions, let's talk about the service options section.
During Covid, the service highlights are essential.
Potential customers can see front hand what purchase options are available, from takeaway to delivery, dine-in or drive through. Also, on Google Maps, foodies can search and filter out restaurant options. 
For example, the search "curbside pickup Copenhagen" will only show restaurant listings with their address in Copenhagen that have enabled 'curbside pickup'. 
Make sure you update the service tags to reflect how your restaurant listing is doing business, as it can be a make or break for a lot of your tech-savvy foodies.  
4. Health and safety tags 
Being transparent about your restaurants' special hygiene efforts is super important for your customers and adds to brand reputation.
Your foodies want to feel safe when they go out with their friends and family. From 2020, restaurant listings have health and safety attributes on GMB. Customers can check what to expect when arriving on location.
The following options are available for listing managers to choose from:
Masks required 
Staff required to disinfect surfaces between visits 
Staff get temperature checks 
Temperature checks required for customers or staff
Appointments or reservations required. 
Work together with location managers to make sure these measures are accessible online and offline and front line personnel can offer further info to customers. 
5. Direct messaging 
DMs are not just for restaurants on GMB, but they can become a gold mine for your restaurant brand. 
One out of five customers will dismiss a brand after an unsatisfying interaction on social media.
This also applies to GMB, not just Instagram or Facebook, so get your interactive text experience going.  
Similar to Facebook Messenger for brand pages, GMB offers the tools to customize the brand interactions.
Here are a few top tips for managing your direct messages on GMB :
Draft a personalized autoresponder message
Avoid friction with your audience – enable messaging during opening hours
Be kind
Make sure the way you communicate reflects the restaurant brand's etiquette.
It's an ongoing effort that returns in sales, brand awareness and even business development opportunities.  
Google Business Profile is essential for your brand's online reputation
Unlock the full potential of Google Business Profile for Your Restaurant Today
Download our latest ebook The Ultimate Google Business Profile Restaurant Marketing Playbook, and you'll find:
2021 Features and Updates

Checklist

 for Optimizing your Restaurant Listings

Guide

 from Location Setup to Expert Mode

Best Practices & Tips 

in Restaurant Marketing

How to drive sales to

 Delivery and Takeaway
AreTheyHappy is the all-in-one customer experience solution used by marketing and operations teams in fast-growing hospitality brands all over the world. Our software solution combines online review management, social media management, publishing and scheduling, automated customer replies and team task assignment boards dynamic business rules, brand and locations trend reporting.
Click here to contact one of our online reputation specialists and discover how we can make your business more remarkable online and reach new customers!