5 Tips for Restaurants and Hospitality Brands to Increase Organic Engagement on Social Media
The organic engagement of restaurants and hospitality brands on social media, like for most brands, has decreased in the last few years.
While during the early days of Facebook, Instagram or Twitter, it was all about organic engagement, as ads were limited or non-existent, that is not the case anymore.
Read on to discover the 5 great tips for restaurants and hospitality brands to increase organic reach and engagement on social media.
Social Media Engagement Trends
Social networks consolidated their leading positions by creating an environment where publishers, brands and independent vendors need to bid on ads to get consistent returns of investment.
The truth is the general public is flooded with content. Brands need to compete with overnight influencers, public personalities and even government authorities for the attention of the users, usually measured in likes, comments and shares. 

Scheduled Posts Engagement Rates 
All social media publishers want to get better reach and more engagement, but how to achieve that if posts are reaching fewer users in the first place? Whether you post via the scheduling tool or directly, reach has declined severely in recent years. Yet things are not that grim as they seem first-hand. 
There are ways to improve organic performance without breaking the marketing budget. And that's what we'll cover in this section. 
Organic Engagement for Restaurant and Hospitality Brands 
Based on independent studies and the guidelines posted by the social media platforms, we've narrowed down average benchmarks for engagement that restaurant and hospitality brands should know when measuring performances on social media. 
Instagram 

 engagement rate 1.40%

Facebook 

 engagement rate 0.42%

Linked In 

 engagement rate 0.35%

 

Twitter 

 engagement rate 0.09%

 

Your brand might be crushing it out there and have better results. That's great!
Start with these values and past results as references when setting targets or reporting. 
Who is more likely to engage with your content?

In other words, who are the users reached by your page's posts, stories and updates. The ones that, on a regular basis, like, comment or share your content on that social network will be the first ones to see your updates.
That's why your engagement and reach are generally codependent: consistent engagement rates will mean a higher number of users reached that can generate better engagement numbers and so on.

How to increase your reach on social media in 2021 
Restaurants and hospitality brands usually know where they fit best based on their customer experience, values, branding and placement. 
For increasing the organic engagement of restaurants and hospitality brands usually, a starting point is transposing your marketing mix for social media. Ask yourself or the team that you work with these questions.
What type of content is my core audience wow-ed? 

What do they find genuinely important? And why?

What brands (from other industries or even your own) are doing a great job at this?

Consistency is vital when it comes to growing online.
Next, we will look into the actionable tips that you can apply right away, regardless of your restaurant's niche or the etiquette of your hospitality brand. Remember, Rome wasn't built in a day, and the same is for your online channels.
1. Video in all shapes and sizes
The move towards video content on social media is undeniable. Alongside the rise of short-form video content sharing (Snapchat, Tick Tok, Instagram Reels), it has become even more accessible to create smooth looking videos that engage very well on social media without huge budgets invested. 

Don't forget: you don't necessarily need fancy production companies or filmmakers to have video content that grows your social media. Authenticity is essential, and production levels are secondary.  

Also, most social platforms are rolling out live videos, so take advantage of that. Go live on video! Engaged followers will get a notification when your page goes live, so they can join in while the action happens, react and comment in real-time. It's a highly interactive experience. 
The organic reach of restaurants and hospitality brands that utilize live video may not skyrocket overnight, but expect some visible results in a few months. 

2. Stories, more stories, everyday stories
Use stories to stay on top of your feed – they don't take much time, and it's a fun way to remind your followers that your brand is open, active and joyful.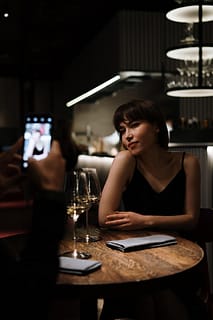 Snap a boomerang-like GIF, a collage of today's dishes or a small 360 pirouette around your terrace during peak hours – they're all valuable content pieces to post in stories. 
What's great about stories: these are easy to make and these drive quick reactions. The users who engage with your stories will be the first to be part of the organic reach. Build a core audience that can help your brand drive more engagement on regular, non-story posts.

Focus on diverse content! Try to balance your stories from promotions and offers with cute, easygoing and relatable content. One last thing on stories, don't regard them as temporary posts. They are a different ball game, so keep your messaging and CTAs simple!

3. Grow the comments section
Comments are the gold mine of engagement. If users take the time to write something, they feel connected to that content and part of the conversation. 
A buzzing comments section will weigh more than likes and shares in 2021! Invite your audience to share their opinion on the topics that your brand talks about. A conversational manner of drafting the posts is great for restaurants and hospitality brands.
If your brand is service driven and customer-facing offline, this should translate into online communications.
Even industries that are more formal by nature (finance, government agencies, police authorities) make efforts to be perceived as trendy and relatable, so jump on the bandwagon; it's room for everybody.

4. Maximize (organic) brand mentions 
There are influencers out there (with a good number of followers even) who will mention your brand, without expecting financial compensation, just because they like your food, vibe or service! Bless their heart. But do remember, it's common courtesy to amplify their posts by mentioning them in a post, story on the comment section of your brand's pages.

For paid partnerships, mentioning consistently your partner-influencers is even more important: this boosts exposure to your brand (and theirs) to make sure your brand wins new followers and potential customers from the collaboration.
Then nurture relations with niche influencers and micro-influencers in a pragmatic manner. If your brand is doing apparel like t-shirts or hoodies, send them a few – they will likely mention your brand again once they open their present. 
Besides influencers, there are also your regulars and soon-to-become regulars of your establishments. Encouraging your dedicated customer base to tag your brand on social media will help your brand open up to new customers in the same demographic. Your loyal customers can influence their friends and family to visit your locations.

5. Publish often and consistently
One post per day is not enough for restaurants and hospitality that want to drive traffic to their locations and delivery listings. It's vital to try posting at different times of the day and see when your posts perform best. 
Thankfully, restaurants and hospitality brands have a unique position in the post lockdown world: they were highly missed, especially by the people living in big cities. So, your audience won't mind hearing from you more frequently.
But a word of caution. Correlation may not be causation, but industry gurus do suggest that you implement a certain consistency in your social media calendar once you notice what works for your brand. 
And there you have it. These are just a few super helpful tips that any restaurant or hospitality brand can start using right away without significant investments.
Final thoughts 
In the end, social media is still a highly unpredictable environment. The strategy that was working fine a few years ago is outdated by 2021.
Social media execs and digital marketers know this too well that there is little progress without experimenting with different approaches. Increasing the organic engagement of restaurants and hospitality brands is a long term effort, see what performs for you and try to perfect your strategy as you go.


Last but not least, we encourage you to track experiments and gain momentum around critical dates or events that will make a difference for your brand.

We are here to help. If your marketing and operations teams need some help with their online reputation, reach out. We enable restaurant and hospitality brands in over 25 countries to be more remarkable online and reach new customers through our unique software solution!

Sources:
Social Media Industry Benchmarks by Social Insider



See also:
How to Respond to a Positive Review
What should I do when faced with Review Blackmail?
Major Google My Business 2020 Updates. Why should restaurants care?