AreTheyHappy 101: Facebook Recommendations for Restaurants
Last week we wrote about what to do when faced with review blackmail or threats. This week, we're going to dive into the new Facebook recommendations feature for restaurants. We cover everything you need to know about recommendations, and how to report inappropriate recommendations to Facebook.
While blackmail, which we discussed in the previous article, sits on one end of the spectrum, there are other less extreme scenarios which might warrant reporting to the Facebook investigation team as well.  Essentially, Facebook allows you to report recommendations that are against their community standards, including recommendations that are:
Not relevant
Unfair
Spam, etc.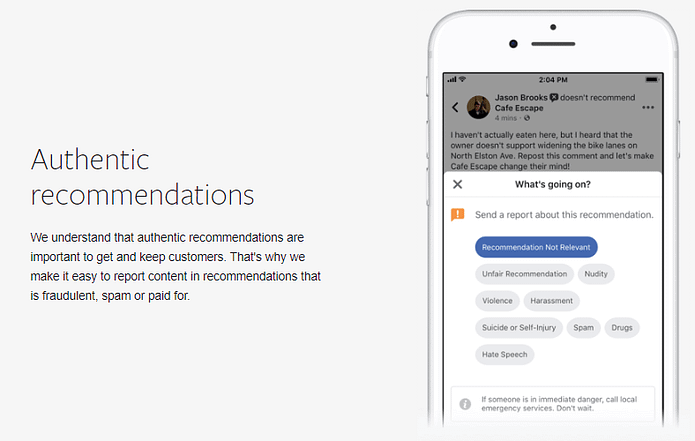 How do I report Inappropriate Recommendations?
The goal of Facebook's Community Standards is to encourage expression and create a safe environment for both consumers and businesses. They've implemented a simple way to report potentially violating content.
The first way is via their report center: https://www.facebook.com/help/contact/567360146613371.
The second way is to flag the recommendation directly. See the following steps.
Step 1.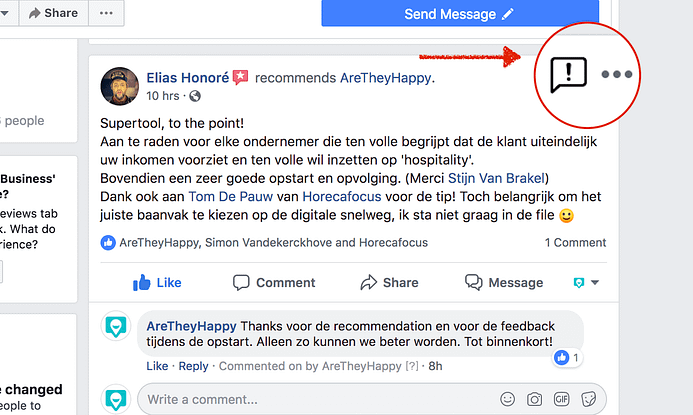 Step 2.
But wait, what are "recommendations" and how do they differ from reviews?
In August 2018, Facebook opted to introduce "recommendations" and phase out "reviews." The new recommendations feature comes with a 25-character minimum, and a binary choice: "yes, I would recommend this business / no, I would not recommend this business".
Reducing the quantitative response from 1-5 stars to a simple yes or no, combined with the 25-character minimum, actually adds valuable feedback for your business and potential customer. Empty reviews are no longer permitted. On the other hand, it means that you and your customers will need to pay more attention to the content of recommendations to gather context and understand the "customer experience knowledge gaps left by the removal of neutral star ratings."
An interesting upshot of the requirement for more details in reviews is that spotting fake reviews could become easier. 👍
While this new direction from Facebook was quite surprising, there's no need to worry. We note that all of your past Facebook star-rating reviews will still be maintained in your AreTheyHappy account (for as long as Facebook keeps them). We'll also keep monitoring the situation to ensure that you have the right features and tools to manage your online reputation and continue to connect with your customers.
Ok, but what if the negative feedback was justified? How do I handle negative reviews?
We are advocates of the fact that feedback, negative or positive, should be seen as a gift. And, this should also mean that we embrace a new mentality around how we interpret and respond to negative feedback. Roby Ganguly from Apptentive writes: "The reality is, we only ever hear from one of every 27 unhappy customers. That 27th customer leaves you with a present — an indication of why they are leaving and likely why others have left as well." It's important, not to confuse silence with satisfaction.
There are 4 steps to handling negative reviews:
Offer an apology
If the complaint is severe, take it offline where damage can be mitigated
Offer some kind of appropriate reparation
Discuss the feedback with the team and see how it can be avoided in the future
Here's a case study on how Happy Tosti, an awesome restaurant concept, uses customer feedback to improve their operations and motivate their team. Co-founder, Wibe Smulders shares the secret to their popularity!
How do I respond to good recommendations?
We're glad you asked. Many business owners only focus their attention on responding to reviews when something goes wrong and there needs to be some damage control. We can understand that. Negative reviews have a recognized impact on your bottomline. (Click here for our NL article breaking down the cost of negative reviews.) On the other hand, good reviews have a less known, but equally well-documented, impact on business revenue. Good recommendations come from happy customers, who compound new business via repeat visits or digital "word of mouth."  It's a fact that, today, 91% of people trust online reviews as much as a personal recommendation (2016). That's a fact worth repeating: "91% of people trust online reviews as much as a personal recommendation." Then, this factors into the ultimate decision of whether or not to visit your restaurant, cafe or hotel.
So, what should you do?
Always greet the customer by their name. "Hearing one's own name has unique brain functioning activation specific to one's own name." It feels nice to be seen and to be heard. Next, express some gratitude. After all, they've taken the time to tell the world to visit your restaurant.Never forget that this interaction is being observed. Your potential customers are observing how you respond to this act of kindness. You cannot expect appreciation if you don't show any yourself. Finally, be proactive about ways you can enhance a customer's experience. This serves two purposes: first, you show that you are listening to their interests/likes / dislikes. And second, it could be a chance to showcase new experiences. For instance: after reading their review, you now know that a particular reviewer loves pasta. Inform them that you change your menu every month, and invite them to experience new pasta flavours in the coming winter/summer months.
Thus, to summarize:
Acknowledge them by name. 
Show some gratitude.
Spark their interest further
Need help managing your online reviews and social media? 
Surviving and Thriving in the world of "digital" word of mouth
Ratings, reviews, recommendations… these have all become an integral part of the modern consumer's decision-making process. You know yourself that when you've never been to a particular hotel or restaurant, reading a few reviews can often help you make your choice. To survive in the era of digital word of mouth, your business must be proactive and own your online communication (before it goes a direction that is unplanned)!
But, what's great is that you don't have to do it alone. We're definitely here to help. 🙌
Learn more