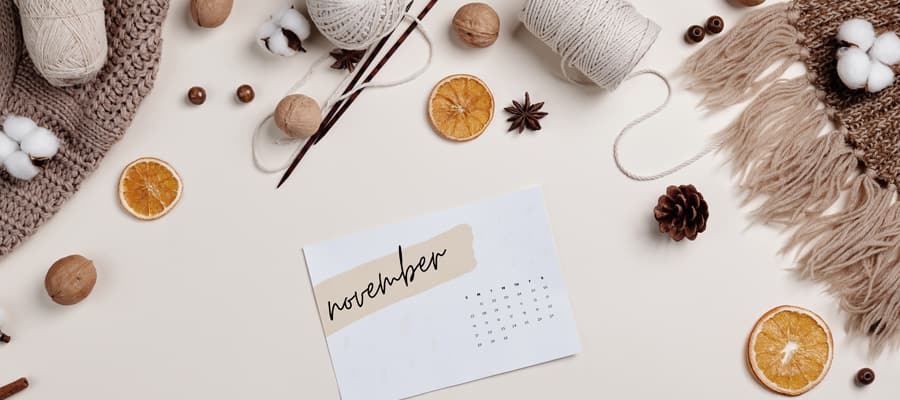 [Exclusive Template] Foodie Days Calendar for Hospitality Brands | November Edition 🦃
November, the month that usually launches the start of the holidays that reunite family members, looks pretty different this year and the restaurant industry is searching for ways to keep that feeling of comfort and warmth going and the engagement flowing. 😍
We prepared a wide array of ideas to make your restaurants stay top of mind for their customers all month long. 👏
Whether you promote snuggling under a blanket with a hot cappuccino, going vegan for Thanksgiving or ordering a delicious turkey burger these key dates will inspire content creation and motivate your followers to stay alert, curious and loyal. 🙏
👉 AreTheyHappy filled the November Foodie Calendar with key days that can be relevant for your audience and a complete social media content inspiration kit with popular hashtags, educational resources and tips on how to leverage each topic to your advantage and increase your conversion rate. 🎩
---
↘️ This is what you're going to get in our exclusive Foodie Days Calendar:
17 key dates to post about in November
Content inspiration: hashtags, copy and visual examples 
Tips on how 

to growth hack your follower base 

Resources from where to start your own research
Social media guidelines and best practices for restaurant marketing professionals


---
Not only has the AreTheyHappy Team filled the November Foodie Calendar with days that shine a light on unique items on your menu, but we've also included popular hashtags, educational resources, and tips on how to leverage each topic to your advantage and increase your conversion rate.
November social media content inspiration 🏅
Use this resource for both online and offline marketing and communications for your restaurant brands and bring more clients from your social media profiles to your locations.
Personalize each key date with your own special tone of voice, flavours, promotions, hashtags this will not only surprise your followers but transform them into customers.
How do I get the most out of the Foodie Days Calendar?
First, check out our Airtable template, then copy the base and start customizing. For this, you will need to create a free Airtable account, which by the way, is a great tool for project management and planning., We use it ourselves at AreTheyHappy daily. Alternatively, you can download the file as a .csv file and integrate it with your own content calendar.
Then, pick out the key dates you want to post about from the calendar that are relevant to your brand and their target audience. No need to go overboard! Just pick the most relevant ones and maximize them. Most of the time, less is more, but make sure you help the team by posting regularly. 😉
Go go go, start writing your copy and choosing your visuals, nobody knows the identity of your brand better than you, and it's time to show everyone what you've been up to!
🚀 Pro Tip: It helps you and your team keeping a clear overview of upcoming days and assists you to report better online and offline performance. How? Use our template to create a social media content calendar for your brand. List all the social network profiles you want to post from, i.e. Facebook, Instagram, Google My Business, LinkedIn, Twitter, etc. for the whole month. 
Next, schedule your posts with the social media publisher your company uses. Before we go into our social media content inspiration calendar, let's talk about social media publishers.
If you're looking to work more efficient and save time, the AreTheyHappy publisher is your ticket to managing your social media accounts like a pro.
👉Get your monthly social content out in just a few minutes. Our publisher Integrates seamlessly with Facebook, Instagram, Twitter, Google My Business and LinkedIn. This allows you to schedule your social content to publish at the desired date and time automatically.
😎It's one more task that you can automate and tick off from your workload.Finally, measure the engagement of each post and see what worked well, what was an unexpected success, and what should be improved. Gather input from your colleagues who talk directly with the customers, as they may have some insights that will help you better understand the stone-cold metrics provided by social platforms.

🚀 Pro Tip: Make sure that your Google My Business opening hours, menu items, etc. are regularly updated to ensure that customers are able to find you. Read our article for more tips.
Ready to start publishing?
Access the Foodie Days Calendar for all your November social media content inspiration and start drafting amazing posts for your followers today.
Download
---
Quick Tip: You can make several posts to maximize a theme that is celebrated over an entire month or a week!

---
Get inspired by these November content examples that restaurants used 👌
World Vegan Month ☘

Veganism shows no signs of slowing down, and November is a great opportunity for you to shine a light on any unique vegan-friendly food on your menu. Also, by preparing a few posts that you stagger over the entire month, you can maximize this "foodie month" and also do your bit to increase awareness for healthier diets and more sustainable ways of living. For many of today's customers, the fact that a company cares about the planet is important. You can choose to run a special on takeaway delivery all month if it applies to you. 🙂
Use hashtags like these: #worldveganmonth #vegan #gogreen #veganfoodie #veganfood #vegannovember #vegancurious #fairtrade  #sustainable
November 2nd: National Sandwich Day 🥙
Do you have a special sandwich on the menu, i.e. slow-cooked pork, a vegan twist or do you use locally sourced produce in your sandwiches? Let your customers know asap! You can choose to run a special on take-away or delivery this week if it applies to you. 🙂
Use hashtags like these: #sandwichday #nationalsandwichday #sandwich #foodie #instafood #foodstagram #foodgasm #yum #delicious


November 23rd: National Espresso Day ☕️
It's Monday, a perfect day to promote National Espresso Day, keep your followers awake and fill them with energy for the entire week. Create posts that include offers, happy hours or just photos of your best steaming and inviting cups of espresso.
Use hashtags like these: #espressoday #espresso #coffeelovers #fair #choosewisely #makeadifference 

Special Mention: Thanksgiving 🦃

This might be an atypical Thanksgiving for many but it can be a chance to try something new as well. Bring the holiday feast to your customer's table by promoting your delivery services early in the month. 
Even if you are not a US restaurant, it's a great opportunity to talk about getting together, diversity, and sharing the good and bad as a community.
Use hashtags like these: #foodgasm #yum #delicious
#supportfarmers #supportlocal #strongertogether #sustainable #community

Plan, schedule, measure, repeat!
Don't forget to tag AreTheyHappy if you find our November social media content inspiration useful! We love seeing what you're up to!
Would you like to schedule and post more efficiently on Facebook, Instagram, Google, LinkedIn and Twitter?
👩‍💻 Click here to contact one of our online reputation specialists and discover how to can make your business more remarkable online and reach new customers!
Interested in acquiring more customers? Have a look at the following stories: