Major Google Business Updates in 2020. Why Should Restaurants Care?

Google has been testing new features and integrations within Google My Business (renamed Google Business Profile) to further help small and medium sized businesses recover. 
Local SEO is a must for marketers looking to boost their online visibility and bring in more customers through their offline doorway. Tools like Google Business Profile (formerly known as Google My Business or GMB) enable owners and managers to better understand user intention and customer experience feedback, as it helps consumers discover local businesses and make more educated purchase decisions. 
How does it do this?
For every location listed on Google Business Profile, the platform tracks users interactions on Google Maps, Search or Assistant.
For instance, Google Business Profile tracks when users interact with information published by the restaurant staff like opening hours, menu highlights and accessibility features but also content posted by customers, influencers and local guides i.e. reviews, pictures and Q&A.
Responses to reviews and Q&A's generally publicly visible, so long as the user consents.
A round-up of Google Business Profile 2020 updates rolling out that restaurant owners should know about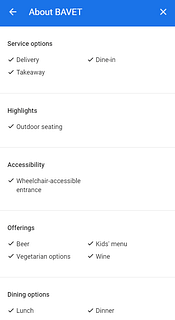 New service related, highlights and attributes for restaurants and eateries.

Google has been offering companies more ways to spotlight their services. 

Specifically targeted to restaurant brands

, the new tags

Dine in, Takeaway

and

Delivery

can help consumers narrow down their options early in their buying journey.
Restaurant marketers can go further and be specific about their services like contactless delivery or curbside pickup.
Health and safety attributes have been spotted and are expected to be largely available shortly in Google Search and Maps. These are the health and safety attributes that you can add to your locations:



Appointment required

Mask required 


Staff get temperature checks

Staff wear masks

Temperature check required

 

Businesses can now add a direct link for purchasing a gift card voucher and direct donations.

As part of their efforts to help the reopening of independent businesses in the service sector,

Google Business Profile is offering support links for customers to financially contribute to their favourite restaurants.

The search engine giant has partnered up with PayPal and GoFundMe to offer seamless user experience and extra transaction transparency.

The support feature is first made available for eligible companies based in the United States, Canada, United Kingdom, Ireland, Australia and New Zealand. 

For gift cards, restaurants can now add a link to their website or create offerings using other partner platforms.

Find out if your business is eligible and the steps you need to take to be enabled this feature in your listings.
An easier way to update your listings, business hours and highlights/ attributes, directly from Google Search and Map. Once you log in to Google Maps, you can simply tap the profile picture of the mobile app and select "Your Business Profile" to access the editing tools; in Google Search, upon clicking the "My Business" button from the listing on the right side of the screen.
This feature is available for users who have set English as their language.
Google Business Profile emphasises women-led, black owned and veteran-led businesses.

Part of a larger

initiative

to support underrepresented entrepreneurs and create more inclusive digital spaces. This is an amazing initiative that we hope to see available worldwide soon. 

The announcement was made late July and by the time of this article's publishing, we can confirm we spotted the "women-led" label active for businesses outside of the United States, even in our own AreTheyHappy listing, as we are fortunate to have a very diverse and international team, lead by our vibrant CEO, Hannah Albarece.
Testing waters with a premium plan of 50$/month per location.

In a

tweet

, Tom Waddington

– a local search expert, posted the offer for eligible Google Business Profile accounts. For a

subscription plan of $50/month

, the business would get

"Google Guaranteed"

status, displayed with a green badge next to their listing. This feature is expected to be announced officially in the second part of 2020.

A new feature that will show call logs triggered from a Google listing interaction to SEO admins, business owners and managers. The "Calls" tab will keep track of activity up to 45 days.

Grow My Store is a tool primarily for e-commerce websites that analyzes your brand's customer experience and compares it with similar ones inside your niche. Its aim is to offer improvement suggestions for your customer's digital experience.



Local Opportunity Finder is created for independent businesses looking to attract customers to a physical location. It works similar to Grow My Store, suggesting actionable improvements for increasing the visibility of your locations. Starting restaurant marketers and owners will get the most of this tool, helping them "proofread" the information published in Google My Business.



Important note, the mentioned Google Business Profile 2020 updates would be rolled out for all regions and languages at different paces, based on the market feedback and user adoption rate. For companies who operate in different countries, available functionalities can differ from country to country. Think global, act local and don't forget to regularly update your location listings. 
For restaurant marketers, managers and owners is crucial to get ahead of the competition and use these new features in their already existing digital growth plans and social media campaigns.
Ok, so went through the notable Google My Business 2020 updates that restaurants and the hospitality industry should start using right away, but let's dive deeper into statistics and user metrics and see what it can do for your brands.
In a report published in 2019 by BrightLocal, about half of the total surveyed businesses listed receive 1.000 views on Search per month. This report analyzed over 45K listings in Canada, the US, UK and Australia, across different industries and offered some great insights for restaurant managers and owners, with the main takeaway being that GMB is very important to attracting new customers and bringing back existing ones.
Hospitality establishments get more views than any other industry on Google Maps!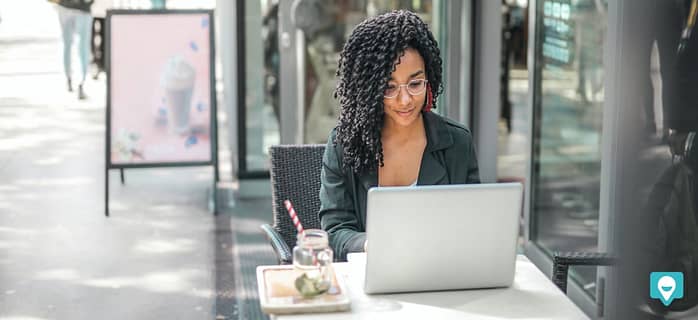 We also observed a growing trend in the AreTheyHappy dashboard that will further look at it in a future article: publishing on Google Business Profile increased up to 50% in the months following the hospitality reopening, compared to the same period in 2019.      
For restaurants and bars, more than 40% of views come from Google Maps, while the overall average is 25%.
Even though values for 2020 will be lower, it's important to keep in mind the high reliance of users on services like Google Maps when searching for new places to eat out.
Tips for managing Google Business Profile like a hospitality pro
After rounding up the major Google  Business 2020 updates that restaurant and hospitality marketers should take advantage right away, it's time to look at the a useful tips to maximise the visibility of your listings.
Reply to GMB reviews, the good, the bad and even the ugly, the effort will pay off on the long run. Granted, turning a negative review into a positive interaction will not skyrocket this month's revenue, but it will be a solid argument in the decision-making process for many new and existing customers.

Unattended, multiple negative reviews are a red flag for most viewers. Taste in food, decor or plating varies a lot, but all customers want to be listened to when they have something to say about your restaurant.
Appealing pictures and good info go hand-in-hand. Close up pictures are great for your dishes but what about a 360 panoramic shot that catches the quaint vibe of your location?
Adapt the format and look to your situation, photos are not a one size fits it all situation. It will depend on what you want to emphasize about your business.
Fill in the highlights and attributes for your locations. Is your location offering vegan options? How about a kid's menu? Can a group be seated outdoors?
Be sure to add all relevant info that applies to your locations, displayed in the "About" tab. As a location manager or owner, it's impossible to predict every aspect that your customers will consider. Some have very specific needs and some are just picky. Many are concerned about safety and hygiene measures and expect transparency over the measures put in place.
More about the perks of going premium is expected to surface after the official announcement. It is also likely that more Google Business Profile 2020 updates to be announced in the last months of the year, to further support small and medium sized companies.
As the horeca and hospitality industry continue their efforts to recover from the COVID-19 lockdown, it will be interesting to see which businesses choose Google My Business to go an extra mile and be more visible online. 
Unlock the Full Potential of GMB for Your Restaurant Today  
Download AreTheyHappy's ebook The Ultimate Google My Business Restaurant Marketing Playbook, and you'll find:
2021 Features and Updates

Checklist for Optimizing your Restaurant Listings

Guide from Location Setup to Expert Mode

Best Practices & Tips in Restaurant Marketing

How to drive sales to Delivery and Takeaway


AreTheyHappy is the all-in-one customer experience solution used by marketing and operations teams in fast-growing hospitality brands all over the world. Our software solution combines online review management, social media management, publishing and scheduling, automated customer replies and team task assignment boards dynamic business rules, brand and locations trend reporting.
Click here to contact one of our online reputation specialists and discover how we can make your business more remarkable online and reach new customers!
Looking for more online reputation management knowledge? Have a look at the following blog posts: