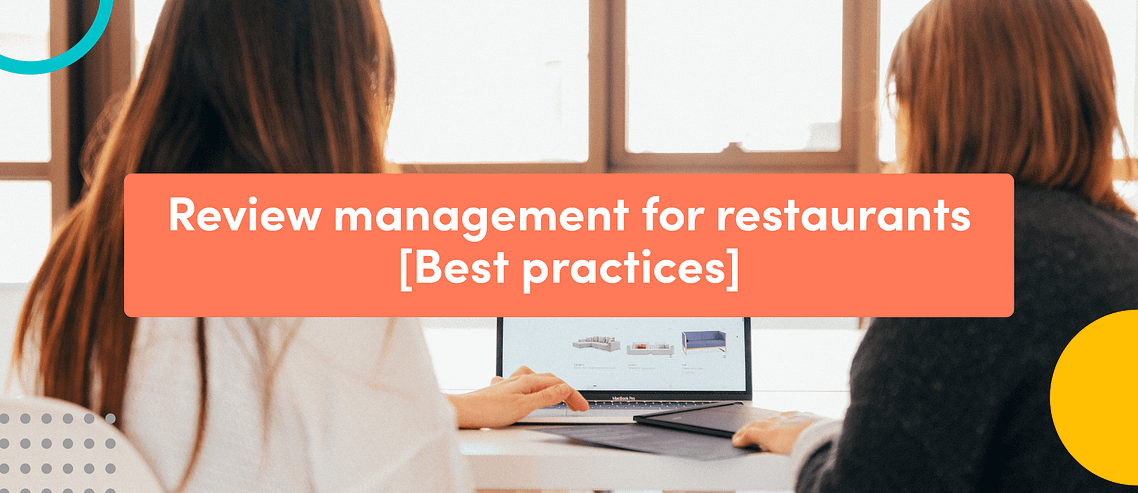 Review Management Best Practices
Just a few years ago, the internet was a very different place. Companies were not engaging customers but just selling to a passive audience; people could not express their voice in a powerful way, and the overall communication landscape was very "top-down." If you think you can skip researching and learning about review management best practices, or if you think you can make it without taking into account people's voices, opinions, and reviews, think again.
The situation has radically changed. Today, websites are no longer static brochures. User-generated content is a must. And regular interactions on social networks are vital to any business success.
No matter the size of your business, they (prospects, customers, clients…anyone and, potentially, everyone) are talking about you. They are tweeting about your latest product, leaving a comment on your blog, posting a Facebook update about their customer experience, and much more. Creating and updating an in-house (digital) space of review management best practices can assure your brand communication will be consistent and will mirror your core company values and mission.
Review Management
The most powerful channels for people to voice their opinions are review sites. Examples include TripAdvisor, Google My Business, Yelp, Foursquare, Zomato and even delivery apps like Uber Eats, Deliveroo or booking sites like Table Manager, Formitable, Open Table, etc.
Review sites allow users to express their opinion on your brand. Did they like your food/service/atmosphere? Would they recommend it? Negative content can affect your sales, or boost your popularity and word of mouth.
What is important for me to know?
You should know that review sites are actually on your side. On the other hand, it is obvious that everyone has the right to express their voice about your brand. There are, however, certain boundaries that need to be respected.
What line cannot be crossed?
Blackmail or threatening behavior by customers against business owners is strictly AGAINST the guidelines of Review Sites and may also be illegal in many countries.
A spokesperson for TripAdvisor said: "It is absolutely against the terms and spirit to use TripAdvisor's name to try and claim discounts, compensation or freebies that would not be available to other guests." 
Other types of negative content online actually can be illegal. When is it illegal?
It uses defamatory language
It reports false information
It is aimed at damaging the company's reputation
How do you react to all of this? How do you defend yourself or your company from this kind of illegal behaviour? Depending on the scope of the problem, several paths can be pursued in order to restore your online reputation:

Review reporting: Immediately reporting blackmail and threats can help the review sites investigate quickly and help keep blackmail reviews from ever reaching the public area of the sites. Click here to read our step by step guide on dealing with blackmail reviews.
Review removal: did that user claim something false about your company? Is that review clearly aimed at destroying your reputation rather than providing feedback? Does it contain improper language? Legal liaison and speed of reaction will make it possible to remove the negative review.

SEO: this is a complex subject that deserves a dedicated story focusing on both brand level and local SEO. If someone googles your brand name, what pages appear in the first page of the search results will be much more important than your business card or website. They will show at a glance several high ranking web sources talking about you. If they display false information, the first thing that you or your online reputation management company should do is devise a search marketing strategy that increases the ranking of positive content, owned by either you or third parties. The search engine game is too important to be ignored, and it is the first step in restoring your image.
What are the top review management best practices?
1. Monitor what they ( the customers) are saying about you online
Apart from the aforementioned reasons to monitor your online reputation, social media monitoring also can bring business! These days, lots of people ask questions via Twitter and Facebook because they are evaluating whether or not they should come to your restaurant / buy from you. If you can automate this, even better!
2. React quickly and politely
In case of a customer complaint via Google My Business, for example, a prompt and simple "We are aware of the problem. We are working on it and will get back to you as soon as possible." is better than a late reply. But, do make sure that you are working on it! Say what you mean, and mean what you say.
3. Genuinely learn from your mistakes
This is an extension of point 2. Criticism can be the chance to learn more about your audience and craft a better message / better service in the future. Be transparent about your efforts so that reviewers know that their feedback is followed up. 
4. Treat your Google first page as your business card
Pro Tip: First impressions count, and we do judge many books by their cover. If the words "scam" and "rip off" are associated with your brand, then that is something you should worry about. Then, do a scan of all the other important social touchpoints that people find you on. Do this once and you're good to go! A couple of hours spent in the beginning will bring a lot of reward in the future! Your first page in Google usually will include the following:
Company website
Google My Business listing 
Facebook page (brand account and locations)
Instagram page (brand account and locations)
Trip Advisor, Yelp and other review listings
Food delivery channels: Takeaway.com, Deliveroo, Uber Eats, Glovo etc.
Table reservation tool
Twitter, LinkedIn ( brand account) 
Mentions in the press
5. Ask for help if necessary
Pro Tip: If your online reputation management efforts are not enough to protect or restore your brand image, you have the choice to request help from a professional. The review management best practices highlighted in this article can serve as a starting point for your company.
Remember, sometimes we simply have to fight illegal behaviour. Niel Patel gives the example of Domino's Pizza employees who posted disgusting videos of themselves playing with food in 2009. They were fired and arrested. Another example is people who post false information on the internet. Sometimes, if you don't sue them, they might do it again.
Need help managing your online reviews and social media? 

It's all in the attitude
Online ratings and reviews are not going away any time soon. They have become an integral part of the modern consumer's decision-making process. You know yourself that when you've never been to a particular hotel or restaurant, reading a few reviews can often help you choose. To survive in the era of digital word of mouth, your business has no choice but to own your communication, and that is best done through a review management best practices playbook, trainings and development for your teams managing your brand!
But what's great is that you don't have to do it alone. We are definitely here to help. 

Restaurant Reviews are your brand's business card! 
 9 out of 10 potential customers check reviews before visiting a restaurant or ordering on delivery. 
 Studies show that 1 bad review can scare off up to 10 potential customers, others show that it can be as high as 30. This is critical revenue that is lost for your brand.
 But the story isn't all that simple. Download The Complete Guide for Managing Restaurant Reviews, and get more and better reviews by using our simple-to-implement tips and protocols.
 Each department, from marketing, operations and front line will discover:
The Impact of Reviews on Marketing & Sales
Customer Expectations Post-Covid
How to Respond to Negative Reviews
How to Respond to Positive Reviews and more…
More from the universe of review management best practices: