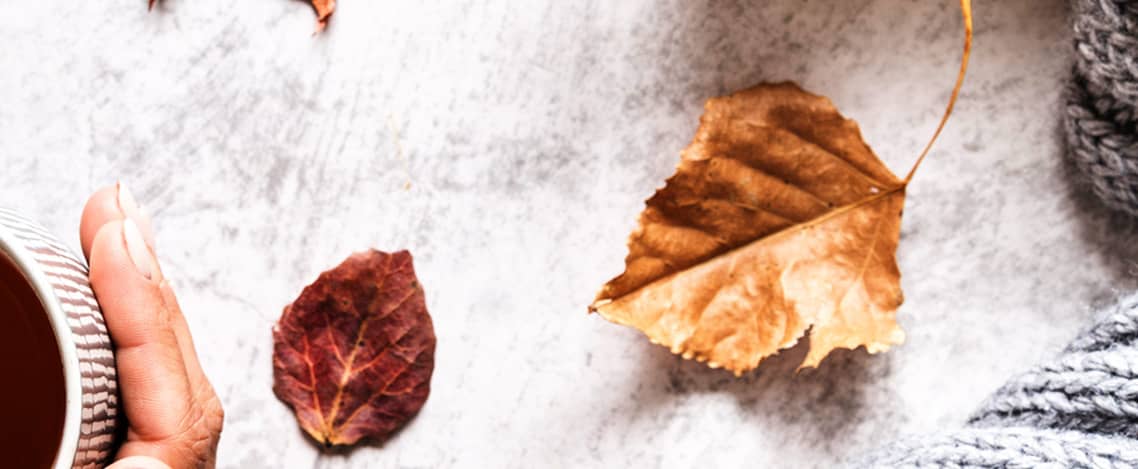 September Foodie Days Calendar for Hospitality Brands [hashtags + free template] 🚀
September is about to start and your boss wants to see the month's social media schedule a.s.a.p.!  Are you going back and forth between draft posts? Running out of inspiration? Sounds familiar, maybe too familiar? 😉
We got you covered. We know how hard it is to find inspiration, so we have prepared 22 social media content inspiration concepts for September that you can start using right away and begin collecting the likes and, ultimately, followers you deserve.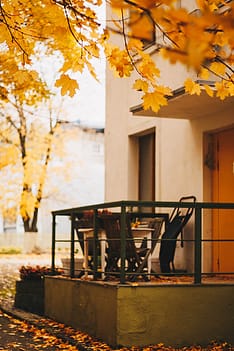 ---
Foodie Days Calendar at a glance:
22 key September dates to post about
Content inspiration: hashtags, copy and visual examples 
Ideas to growth hack your follower base 
Resources for your own research
Social media tips for restaurant marketing professionals


---
Whether you manage a city centre bistro, a speciality cuisine or a hip vegan dining concept you'll find something in our calendar that applies to your picky audience. But there's more! We actually went a step further and put together trending hashtags, tips and further resources to look-up, all in one easy to use template.
Social Media Content Inspiration
This is a great resource for planning both online and offline marketing and communications for your restaurant, and can help bring more clients from your social media profiles to your establishment.
You can repurpose fresh ideas for flash promotions, contests, happy hours and special theme nights.
Get your brand trending in your city and increase location traffic – all centred around the September social media content inspiration calendar.
How do I get the most out of the Foodie Days Calendar?
First, check out our Airtable template, then copy the base and start customizing. For this, you will need to create a free Airtable account, which btw, is a great tool for project management and planning, that we, at AreTheyHappy use daily. You can also download the file as a .csv file and integrate it with your content calendar.
Then, pick out some key dates from the Calendar that are relevant to your concept(s). There's no need to go overboard and try to fit every single one of them in this month. 😉 Simply focus on the ones that match your brand and appeal to the customers you want to show up in the restaurant. Get creative with copy and visuals, nobody knows the identity of your brand better than you, and it's time to show everyone what you've been up to!
🚀 Pro Tip: Use our template to create a content calendar for your brand, and list all the social network profiles you want to post from, i.e. Facebook, Instagram, Google, LinkedIn, Twitter etc. In order to keep a clear overview of all your upcoming social media posts and measure engagement afterwords, it is important to have a birds-eye view but also a contextual approach to each social profile.
Next, schedule your posts. You can schedule your posts with the AreTheyHappy publishing tool or different social media publishers. This will allow you to schedule content to automatically publish. It's one more task that you can automate and tick off from your workload.
Finally, measure the engagement of each post and see what worked well, what was an unexpected success and what should be improved. Gather input from your colleagues who talk directly with the clients, as they may have some insights that will help you better understand the stone-cold metrics provided by social platforms.
Ready to start publishing?
Download the Foodie Days Calendar for September, for social media content inspiration and start drafting amazing posts for your online followers today.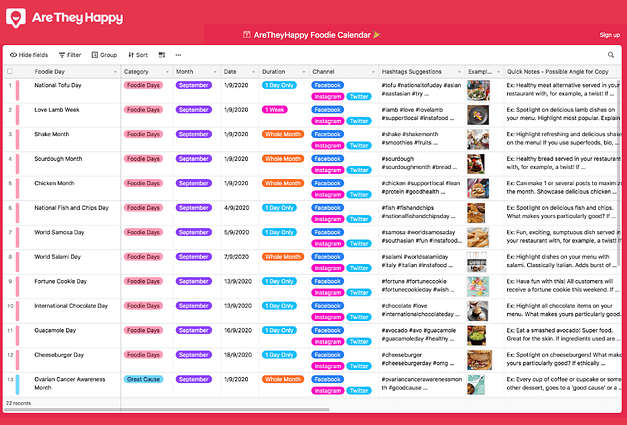 Quick Tip: click on the resource link for each of your favourite days to find out more!
Download my calendar!
---
Examples from Hospitality Marketing Champions
In the section below, we've selected some great examples of how other restaurants have approached their foodie days. 🙂
September 5th: World Samosa Day 
World Samosa Day — inspired by the South Asian dish made from a fried or baked pastry with a savoury filling, such as spiced potatoes, onions, lentils peas, cheese, beef and other meats is a great snack for an entree/ starter course or just as a sider next to a few drinks. 
🚀 Pro Tip: Check out how the following brands are posting a week or two in advance in order to get their followers excited! 🙂 It's a good tip for all your key foodie days. 
Use the following hashtags
#samosa #worldsamosaday #southasian #instafood #foodstagram
September 13th: International Chocolate Day 🍫

Time for super sweet Sunday! On the 13th, the world celebrates International Chocolate Day, a day to highlight the chocolate-based items on your menu. Talk about what makes your dishes particularly good. Why should your customers try it? 😉
Don't forget to mention if your chocolate is ethically traded and sourced from local farmers, or if the recipes are /bio/organic/ authentic or with a twist.
And finally, it's super obvious but social networks love desserts, so get that content out there! 🧐
Use the following hashtags
#chocolate #love #internationalchocolateday #omg #instafood #foodstagram #foodgasm #foodporn
September 18th: Cheeseburger Day 🍔
Nothing better than a juicy cheeseburger with friends and family, right? 😏
Go ahead and put your cheeseburgers in the spotlight! Talk about what makes yours particularly good? If ethically sourced/sourced locally/supports local farmers/bio/organic/recipe is authentic or with a twist/a favourite for many years, that's great to mention. Reach out to your chef and have a small chat. I'm sure new ideas will spark great content.
Use hashtags like these:
#cheeseburger #cheeseburgerday #omg #instafood #foodstagram #foodgasm #foodporn

🚀 Pro Tip: Who said captions have to be long? While the maximum number of characters you can use in an Instagram post is 2200 characters, many of the best performing posts are between just 138 and 150 characters! Thus, there's no need to worry. A few catchy sentences are more than enough! (However, if you have more to say, that's also great for your audience!)
On the other hand, you can always let your pictures do the talking. 👇 Check this post from Hi-Way Burgers.
Special Mentions: Healthy Eating Week 💪
During the last week of September, we leave the cheeseburgers and desserts behind, and focus on healthy eating! 💕
Use hashtags like these:
#healthy #healthyeatingweek #health #goodhealth

Get ready, set, plan!
Don't forget to tag AreTheyHappy if you find this useful! We love seeing what you're up to!
Interested in being more efficient in managing online reviews and social media publishing from the same dashboard?
In need of more social media tips? Have a look at the following blog posts: