What is the Online Reputation Management Cycle and why does it matter?
Twenty years ago, the average restaurant manager couldn't have cared less about his or her online reputation. But today, some restaurant owners and marketing teams lose more sleep over it than any other aspect in their business. Since 97% of consumers check online reviews before visiting a local business, you can no longer afford to ignore your online reputation. In fact, we submit that, modern businesses should actually proactively spend time on online reputation management.
Contrary to what many people think, online reputation management is much more than just monitoring what is being said about you or your business online, and good businesses listen to any actionable feedback they receive from their customers. As you can see from the diagram below, making improvements, may greatly increase customer satisfaction, and these happy customers, in turn, often leave feedback, which leads to higher demands and so on. You get the idea. This feedback loop is called the online reputation management cycle.
We'd  like to further explain what the online reputation management cycle is and how you, as part of a hotel or restaurant , can use it to your benefit!
What is the Online Reputation Management Cycle and why does it matter?
Online reputation management is more than "monitoring"
1. Start with monitoring.
The first step is to know what is being said about your business. Track different social media channels like TripAdvisor, Facebook, Yelp etc. but remember to keep your ears and eyes open even with respect to channels where you do not have an active account or deliberate presence. In other words, just because you only have an account on Facebook, for example, does not mean that customers do not post photos on Instagram. Or, you might be keeping an eye on Yelp, but many of your customers might also be posting on TripAdvisor?
2. Leave a response, to positive and negative comments
When customers leave a review, they do it for the benefit of other potential visitors, but for you as well! If a customer leaves a positive response, consider thanking them. Have they left a negative review? Try to turn it into something positive. Do not delete the review! You may not agree with the review, or you might be afraid that it will deter potential new customers. This is understandable, but keep in mind that deleting bad reviews or comments can turn ugly pretty quickly. You could come over as dishonest and could be guaranteed to lose the customer, whose comment you deleted, forever.
3. Try to generate additional online reviews and feedback
Just as negative reviews can keep customers out of your business, positive reviews definitely bring in more customers. It is true that disgruntled customers are quick to complain, while satisfied customers may not always leave reviews. The worst case scenario is that neither customer type leaves a message, and you receive zero feedback. This makes it harder to know what you are doing well and what you may need to improve. To make matters worse, for potential customers, a lack of (current) reviews brings doubt as to the quality or even continued existence of your restaurant, bar, cafe or hotel. People want to tilt the likelihood of having a great time in their favor. We give you tips a little later in this article on how to get more reviews and feedback. If you want to skip straight to that section, click here.
4. Use the feedback to improve
Feedback can sometimes be feared or resented. You're giving your customers your all, and so it can sometimes be hard to hear that some people are not grateful or satisfied with your efforts.  Nevertheless, it is important to embrace not just positive reviews but negative reviews as well: the fact that a customer leaves a review often means they are still somehow invested in you and your business, and if you respond with class and, better yet, show improvement, old and new customers alike will be triggered to come back. Read on for guidance on how to best learn from customer feedback.
What is the online reputation management cycle?
Receiving feedback and improving your business is a cycle without a clear beginning or end. It is also a reality for today's businesses. Here is an example of how it works:
A customer visits your restaurant, has a nice evening and leaves some small tips for improvement on your Facebook page in a predominantly positive review. You can get started with the small tips in order to provide an even better experience for all your customers next time. The positive review lures new people to your business, who then enjoy the improvements that you have implemented. They go home feeling satisfied, and if they also post a positive review, it will result in more customers, and so on.
All pretty simple, right? If we would make it visual, it would look like this: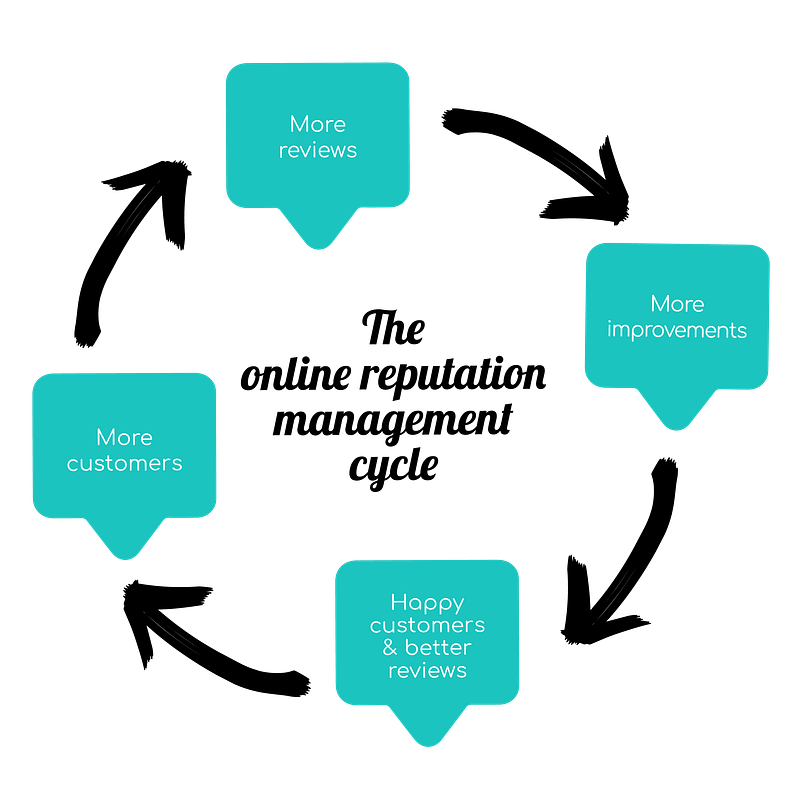 What about bad reviews?
Believe it or not, the online reputation management cycle can also play to your advantage when you receive negative reviews. How? You receive specific tips for improvement, so you can quickly top up your customer satisfaction. Be careful, though; too many bad reviews cause you to end up in a negative spiral. Too many negative reviews will result in fewer visitors, fewer visitors provide fewer reviews, … You get the picture. And since more and more people are looking online for reviews, you better make sure you keep an eye out on your online reputation! Not sure how to deal with bad reviews?
Read more about dealing with bad reviews
Why online reputation management is important
The online reputation management cycle may sound like a reliable theory, but if you still doubt the importance of online reputation management, here are a few extra arguments for you to consider.
The facts & figures prove it
97% of consumers regularly read online reviews: when people search for a business in the neighborhood, they quickly consult Google or Facebook. And what do they immediately see – your rating.
The most read reviews online are those relating to restaurants and cafes. 6 out of 10 reviews that people look up are about food, closely followed by accommodation.
85% of consumers trust online reviews as much as personal recommendations.
 Tip! Follow our Facebook Page and Instagram Page to stay up-to-date on relevant facts & figures.
It is very common for the hospitality sector
Since up to 60% of all online reviews are about hotels and restaurants, online reputation management is extra important in the hospitality sector. Travel and food are the most instagrammed subjects to date. Travelers and backpackers like to blog about their international adventures, and foodies practically live online.
At the time of writing this article, the hashtag #food had already appeared in about 250,884,167 times, making it one of the most popular hashtags in existence. #travel is also quite popular, with 241,162,737 mentions and counting.

It is intertwined with all the other aspects of your business
Your (online) reputation is linked to everything you do. The way you run the different aspects of your business has an unrivaled impact on your reviews and reputation. And your reputation in turn influences things that you notice in your business: how many new customers are attracted to your business thanks to that 5-star rating, for example? It's often said that online reputation is the new marketing, so you should really start using it that way.
"Online reputation is the new marketing, so you should really start using it that way."
It is cheaper than any other form of marketing
Attracting customers to your business can be a full-time job and absorb a huge part of your budget. Printed brochures, deals and partnerships, advertising online as well as offline… They might work fine, but you'll spend a lot of time and money creating and maintaining them. Satisfied customers however, post reviews for free. Next to that, word-of-mouth advertising is the most credible form of marketing out there. This rule also applies to eWOM or electronic word-of-mouth. In fact 84% of people trust online reviews as much as a personal recommendation.
84% of people trust online reviews as much as a personal recommendation.
So how do you get started?
You start by monitoring, following up reviews, getting started with your improvement tips … Even though it sounds obvious, we would like to sum up how you can best handle it.
1. Tips for good monitoring:
Make sure you do it on a regular basis.
 If you leave bad reviews untouched for too long, you won't be able to properly assess what damage it has done. That's why it's important you
keep an eye out on it daily.
 Seen as 1 bad review can cost you up to 30 customers a day
(1),
a few minutes of online monitoring each day is a good investment for the protection of your business' online reputation.
Respond in time, address bad reviews.
 If possible, leave a nice comment on the positive reactions. But definitely do not leave the negative comments unanswered! Offer your apologies and consider setting up some kind of compensation.
2. Tips to get more reviews:
Customers who had a rather negative experience won't mind complaining, whereas satisfied customers do not always remember to leave their opinions. Thus, asking for customer reviews is clearly not a bad idea. Some customers appreciate you asking their opinion, and studies show that 70% of happy customers would leave a review, if one asks. How?
During the experience: At checkout, ask your customers how their experience was. If they respond positively, smile and ask them to leave a review on your Facebook page, Google and TripAdvisor. Explain that every review helps. You could also print it subtly (or not so subtly?) on the bill, or print the request somewhere on the menu. Some businesses offer Wi-Fi, but not unless you have liked their Facebook page. Keep in mind that this last tactic may come over as a little intrusive.
On social media: When people check in at the location of your business, send them a polite private message and ask if they want to leave their opinion afterwards.
In an email after the visit: if you get the email address of your customer (for example because they have booked through an online tool), you can ask them afterwards what they thought of their experience.
3. Applying feedback from in the cycle:
To get maximum benefit from the feedback of your customers, it is best to study and implement your learnings in a structured way. Follow AreTheyHappy's step-by-step plan:
Check your reviewson a regular basis –ideally even every day, and at the least, weekly. One unanswered negative review, can quickly cost your business up to 22% of your potential customers.
Make a list of the feedback. Be open but make sure to take feedback with a grain of salt. Some customers criticize the smallest things possible and make unreasonable demands.
Prioritise your to-do's. If you see a certain remark returning often, be sure to put this at the top of your priority list.
A to-do list without structure is useless.Set deadlines, create a schedule and appoint responsibilities to the people in your team or parties you are working with. You do not have to do everything alone.
Where applicable, consider reaching out to the complainant once you know what went wrong and have taken steps to make improvements. Invite the client who complained to give your business another shot. They just might be open to it and change their minds. A customer whose complaint you have resolved, has a very high chance of becoming a loyal customer.
Which cycle will you choose?
You can apply the online reputation management cycle to turn every experience in your business into a five-star experience. Keep in mind, however, that the cycle works in both directions.
If you ignore your online reputation, you will miss feedback from your customers, which could result in less satisfied customers, who in turn leave negative reviews, driving away potential customers, and giving you less resources to make improvements, etc etc.
Depending on the approach you prefer, you either end up on the virtuous cycle or the vicious cycle. Which cycle will you choose?
Keep an eye out on our blog, our Facebook page and our Instagram page in order to stay up-to-date on the latest online reputation management tips and tricks!
In need of some help managing your online reputation? Send an email to [email protected] and we will contact you as soon as possible
Sources:
https://moz.com/blog/new-data-reveals-67-of-consumers-are-influenced-by-online-reviews