[Inspiring Template] Foodie Days Calendar for Hospitality Brands | December Edition ⛄️
December is filled with opportunities for the restaurant industry to give thanks and celebrate with those who stood by throughout this difficult year.  
The social media calendar we propose for December offers inspiring ideas to keep your foodie lovers connected to your brand. Customers are searching for ways to bring joy and warmth into their homes. Show them they are part of the family! 
Show your commitment to reach your customers by promoting fun delivery options and special discounts for Brownie Day, Bacon Day, or Pastry Day. Celebrate and engage with your team for Bartender Appreciation Day or Ugly Christmas Sweater Day. Show your generosity for Giving Tuesday or Christmas with donations to your favourite causes.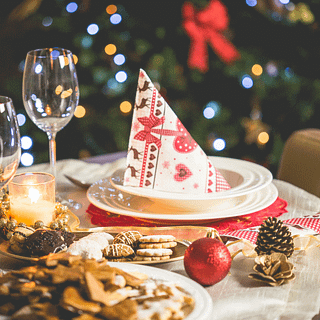 What you'll get in our Foodie Days Calendar:
20 December key dates

to post about

Content inspiration:

hashtags, copy and visual examples 

Tips on how to

grow your brand's following  

Resources

to start your own research

Social media guidelines and best practices

for restaurant marketing professionals, i.e. when to post and on which channels.
December social media content inspiration
 Pro-Tip: Align online and offline marketing and communications for your restaurant brand and bring more clients from your social media profiles to your actual locations or delivery pages. 
How do I get the most out of the Foodie Days Calendar?
First, check out our Airtable template, then copy the base and start customizing. For this, you will need to create a free Airtable account, which by the way, is a great tool for project management and planning., We use it ourselves at AreTheyHappy daily. Alternatively, you can download the file as a .csv file and integrate it with your own content calendar.
Then, pick out the key dates you want to post about from the calendar that are relevant to your brand and their target audience. No need to go overboard! Just pick the most relevant ones and maximize them. Most of the time, less is more, but make sure you help the team by posting regularly.  
Go go go, start writing your copy and choosing your visuals, nobody knows the identity of your brand better than you, and it's time to show everyone what you've been up to!
Pro Tip: It helps you and your team keep a clear overview of upcoming days and assists you to report better online and offline performance. How? Use our template to create a social media content calendar for your brand. List all the social network profiles you want to post from, i.e. Facebook, Instagram, Google My Business, LinkedIn, Twitter, etc. for the whole month. 
Next, schedule your posts with the AreTheyHappy publishing tool or whichever social media publisher your company uses. It allows you to schedule content to automatically publish. It's one more task that you can automate and tick off from your workload.
Finally, measure the engagement of each post and see what worked well, what was an unexpected success, and what should be improved. Gather input from your colleagues who talk directly with the customers, as they may have some insights that will help you better understand the stone-cold metrics provided by social platforms.
Pro Tip: Make sure that your Google My Business opening hours, menu items etc. are regularly updated to ensure that customers are able to find you. Read our article for more tips.
Ready to start publishing?
Sign-up to access the Foodie Days Calendar for all your December social media content inspiration and start drafting amazing posts for your online followers today.
Quick Tip: You can begin promoting offers weeks before the special date! Christmas is a busy period and you'll create more awareness if you plan and schedule posts ahead of time!

---
Examples
These great December post examples from restaurants will spark your creativity!
4th December: Bartender Appreciation Day
Show some appreciation and gratitude to the bartender(s) who keep your customers happy! Feature them in your posts, do an online cocktail session, tell their story, buy them a drink! Employee engagement and showing gratitude are highly appreciated during these hard months of uncertainty.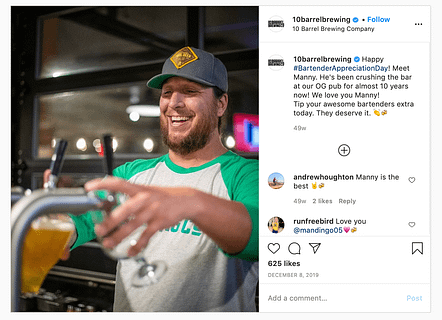 Use the following hashtags
#BartenderAppreciationDay #bartender #cocktaillovers #drinks #mixology #instadrinks
9th December: Christmas Card Day
Making your customers feel valued is a really beautiful and important thing. Send them a card with the delivered food. A few kind words of appreciation will make a lot of difference and warm many hearts.
Send some to your partners and employees as well, personalized, and full of heartfelt emotion!
You can also create some custom cards that can be purchased and sent by your customers to friends and family. Make sure you post about it all season!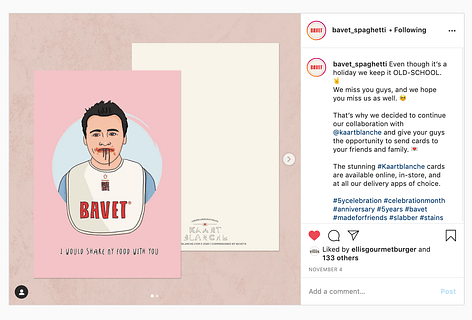 Use the following hashtags
#christmascardday #christmasmeal #restaurantfamily
25th December: Christmas Day 
Days and even weeks before Christmas, you can build up important Christmas campaigns to ensure plentiful meals for all,  to drive awareness for promos, or make special recipes inspired by the season. It is also a chance to talk about your employees and your customers as a family, with empathy and care.
Use the following hashtags
#christmas #christmasday#MerryChristmas #ChristmasMeal #ChristmasDrinks #happyholidays
31st December: New Years
This is a chance to give thanks and be grateful to all the people who stood by you all year. Tag your providers, partners, employees, and ambassadors. And together, you can all look forward to achieving your new goals in the coming year.
Use the following hashtags
#NewYear #elebration #happynewyear #welcome2021
Plan, schedule, measure, repeat!
Don't forget to tag AreTheyHappy if you find our December social media content inspiration useful! We love seeing what you're up to and share with our network!
Interested in engaging more with your customers, and attracting new ones via fun and relevant social media content? 
Click here to contact one of our online reputation specialists and discover how we can make your business more remarkable online and reach your loyal and new customers!
See more