From Recovery to Growth – live webinar series for hospitality professionals
"From Recovery to Growth" powered by AreTheyHappy is a fresh concept of live webinar for hospitality that wants to shed light on common industry misconceptions. The aim is to offer a platform for like-minded hospitality entrepreneurs to share their ideas and experiences.
During 2020, the hospitality industry had to adjust their business models and adapt to the current (and local) market realities in order to keep the businesses going.
For 99,9% of the industry players, from local businesses to enterprise, 2020 has been a survival year with revenue growth out of the discussion. This doesn't mean that your brand can't grow in other aspects like awareness, social engagement or operational efficiency.
Creating a seamless online to offline experiences is a must if your plan is to target educated urban living millennials and gen Z. Promoting your brand to a tech-savvy crowd means that most of your buying process will begin and end online.
Introducing AreTheyHappy live webinar series
From Recovery to Growth
Recovery is a bumpy road and decisions made during 2020, may reflect up to a few years later, in revenue. That's why is important to track location, table and dish level KPIs.
Having the necessary data to make on the fly decisions and finetune your customer experience has become a necessity in hospitality.
Moreover, profitability rates put in context for each location is taking into account local culture and customs, city influencers, competitors and customer behaviour. Seek the story behind the numbers.
Why another business webinar, why now?
AreTheyHappy wants to offer a platform of knowledge, where hospitality professionals can find the right information and actionable tips from insiders with a long experience in the industry.
Secrets to scaling hospitality brands successfully – live webinar for hospitality
Join us for our first fireside about entrepreneurship, funding,   growth and scaling hospitality brands in times of market unpredictability.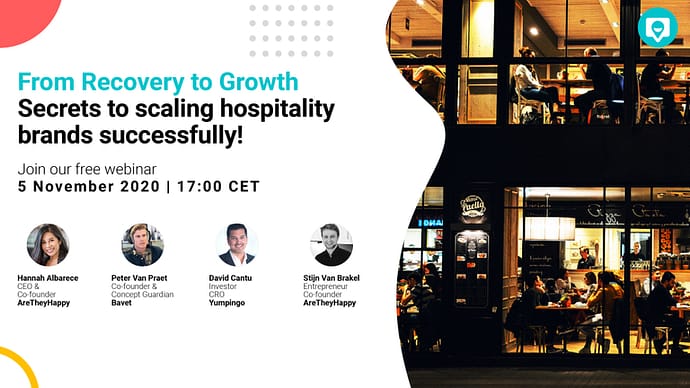 Save the date: 5th November, 17:00 CET. Limited tickets available, register for free now!
---
Our talk will provide unique insights from our guest speakers on both sides of the story: entrepreneur and investor.
Peter Van Praet – Co-founder and Concept Guardian at Bavet
Defines being a founder & CEO in one. Guarding this unique concept with frontline obsession while guiding an incredibly motivated group of talents towards the common goal of (g)astronomical success.


---

Passionate about food tech concepts in all segments from fast food to fine dining, travelling, South Africa in particular & sports, lots of sports.


---

David Cantu – Investor, Chief Revenue Officer at Yumpingo


Entrepreneurial, investor and start-up executive. Having acquired expertise in building growth models for SaaS, B2B, SMB

 in the global restaurant and hospitality sector.

With over 20 years of experience, David witnessed first hand the digital transformation trends and the emergence of the online customer experience

---
Our hosts, Hannah Albarece, CEO & Co-founder AreTheyHappy and Stijn Van Brakel, Co-founder AreTheyHappy will gladly take your questions throughout the talk.
Make sure to stay tuned for the Q&A session at the end. Excited to connect with you online!
The shift that we are seeing in consumer sentiment and behaviour will bring both opportunities and challenges in the months and years to come. The companies that adapt best to the new normal will have the front row seats to scale their businesses. So a conversational live webinar for hospitality makes sense now more than ever.
Special thanks to:
Other stories that may interest you: