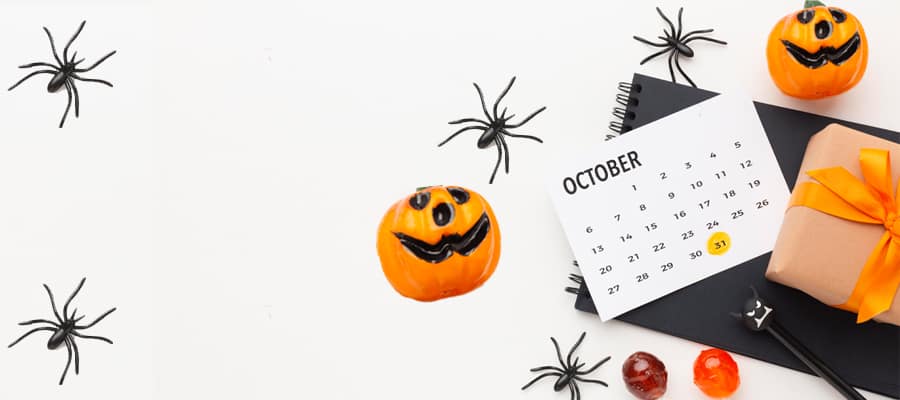 [Free Template] Foodie Days Calendar for Hospitality Brands | October Edition 👻
It's that time of the year when students go back to their universities (virtually for most, at least) with newly formed friendships and love stories😉, gift stores display their scary decor, and coffee places smell of pumpkin latte. Yes, you guessed it, it's October a.k.a. when days get shorter and restaurant marketers get busier than ever!
If you are struggling to find catchy ideas for your social media and promotions calendar, you're in the right place. Got a few solid ideas in progress, but not enough to go for the whole month? Take a look at our calendar template.
Our Foodie Days Calendar in October, curated by the AreTheyHappy Team, features 38 October social media content inspiration ideas.🤔 Each concept idea comes with ready to use hashtags and tips, references and best practices that you can add right away to your restaurant marketing arsenal and impress your boss with increased engagement stats and happy customers in your locations.
---
Foodie Days Calendar at a glance:

38 October key dates to post about
Content inspiration: hashtags, copy and visual examples 
Tips on how 

to growth hack your follower base 

Resources from where to start your own research
Social media guidelines and best practices for restaurant marketing professionals


---
Whether you've got an elegant dining experience brand or a casual hip burger place, your picky audience will be further enticed. The October social media content inspiration calendar has something useful for every type of restaurant, cafe or bar to use in their monthly planning. We didn't stop here! We`ve put together trending hashtags, tips and resources to look-up, all in one easy to use template. 
October social media content inspiration 🏅
Use this resource for both online and offline marketing and communications for your restaurant brands and bring more clients from your social media profiles to your locations.
Surprise your followers with flash promotions, hastag contests, funky menus, happy hours and special theme nights.
How do I get the most out of the Foodie Days Calendar?
First, check out our Airtable template, then copy the base and start customizing. For this, you will need to create a free Airtable account, which btw, is a great tool for project management and planning, that we ourselves use at AreTheyHappy daily. You can also download the file as a .csv file and integrate it with your own content calendar.
Then, pick out the key dates you want to post on from the calendar that is relevant to your brand and their target audience. No need to go overboard! Just pick the most relevant ones and maximize them. Most of the time, less is more, but make sure you help the team by posting regularly. 😉
Go go go, start writing your copy and choosing your visuals, nobody knows the identity of your brand better than you, and it's time to show everyone what you've been up to!
🚀 Pro Tip: It helps you and your team keeping a clear overview of upcoming days and assists you to report better online and offline performance. How? Use our template to create a social media content calendar for your brand. List all the social network profiles you want to post from, i.e. Facebook, Instagram, Google My Business, LinkedIn, Twitter etc for the whole month. 
Next, schedule your posts with the AreTheyHappy publishing tool or the social media publisher your company uses. It allows you to schedule content to automatically publish. It's one more task that you can automate and tick off from your workload.
Finally, measure the engagement of each post and see what worked well, what was an unexpected success and what should be improved. Gather input from your colleagues who talk directly with the customers, as they may have some insights that will help you better understand the stone-cold metrics provided by social platforms.
Ready to start publishing?
Access the Foodie Days Calendar for all your October social media content inspiration and start drafting amazing posts for your online followers today.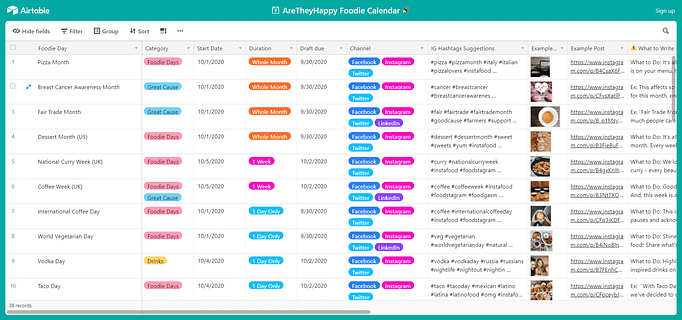 Quick Tip: click on the resource link for each of your favourite days to find out more!
Download
---
Great Key Dates Examples of Social Media Posts from Restaurants
In the section below, we've selected some great examples of how other restaurants have approached their foodie days in October. 😃
October 1st: World Vegetarian Day ☘

Shine a spotlight on vegetarian food! Share a menu special. Explain what makes yours particularly good? Wheather ingredients are ethically sourced/sourced locally/support local farmers/are bio or organic. Mention your recipes origin, if there are authentic or served with a twist, those are all good to mention! 🙂
Use the following hashtags
#veg #vegetarian #worldvegetarianday #natural #healthy #environment #climatechange #instafood #foodstagram
October 14th: Dessert Day 🍨
Now, let's get super sweet today!🍰 On the 14th, the world celebrates Dessert Day, a day to spotlight all the sweet treats on your menus. Express what makes your desserts special and your recipes quirky (authentic or with a twist). 😉
Btw, like the above, mention if your ingredients are bio, ethically traded or locally sourced. Your audience loves that!
And of course, social networks love desserts, so get those posts out there! 🧐
Use the following hashtags
#dessert #dessertday #sweet #sweets #chocolate #dessertmenu
October 15th: National Red Wine Day 🍷

Share beautiful pictures with your wine cabinet, sassy wine glasses or exotic selections and invite people to relax and enjoy (responsibly).☑️ If some of your red wine has a special geographical origin or is produced from organically grown grapes, these are all good to mention.
Use the following hashtags:
#redwine #redwineday #winestagram #nationalredwineday #wineoclock  #winetime #wineoclocksomewhere #wineglass #winewednesday #wineporn #winelovers🍷

🎃

 31 October: Halloween 

🎃

 👻👹

Halloween doesn't need any presentation, or tips, you know the drill better then we do. So we'll just jump to the trending hashtags. Be sure to get your promotions out before competitors, it will get crowded online. 😈

Use hashtags like these:
#halloween #halloween2020 #halloweenmakeup2020 #halloweenmood #halloweenmenu #halloweendrinks🎃
#halloweencostume #halloweendrinkspecials #halloweendecor #trickortreat #halloweenie #halloweenhorrornights #familyhalloweenparty #halloweenpumkin 

Special Mentions: Breast Cancer Awareness Month 🎀

During the whole month of October, we raise awareness, funds and spread the word on a serious disease still affecting women all over the world, breast cancer. Wear a pink ribbon, enable action in your community and don't forget the ladies who can't access healthcare services.

Any good deed makes a difference no matter how small. Together we are strong and only together we can make a difference. 💕
Use hashtags like these:
#breastcancer #breastcancerresearch #breastcancerawareness #breastcancerwarrior #breastcancermonth #breastcancer#fighter #breastcancersupport #breastcancerfight #breastcancerjourney #breastcancerthriver #strongwomen

Plan, schedule, measure, repeat!
Don't forget to tag AreTheyHappy if you find our October social media content inspiration useful! We love seeing what you're up to and share with our network!
Interested in being more efficient in managing online reviews and social media publishing from the same dashboard?
👩‍💻 Click here to contact one of our online reputation specialists and discover how we can make your business more remarkable online and reach new customers!
In need of more social media tips? Have a look at the following blog posts:
Read more